Simply Calphalon
Filters
selection will refresh the page with new results
Collection
refinement Collection group
selection will refresh the page with new results
product-list-page-filter
Material
refinement Material group
selection will refresh the page with new results
product-list-page-filter
Type
refinement Type group
selection will refresh the page with new results
product-list-page-filter
Set Size
refinement Set Size group
selection will refresh the page with new results
product-list-page-filter
Product type
refinement Product type group
selection will refresh the page with new results
product-list-page-filter
Size/Capacity
refinement Size/Capacity group
selection will refresh the page with new results
product-list-page-filter
Handle Material
refinement Handle Material group
selection will refresh the page with new results
product-list-page-filter
Special Features
refinement Special Features group
selection will refresh the page with new results
product-list-page-filter
Use & Care
refinement Use & Care group
selection will refresh the page with new results
product-list-page-filter
Price
selection will refresh the page with new results
product-list-page-filter
Product Results
Showing 1 of 1 results
NEW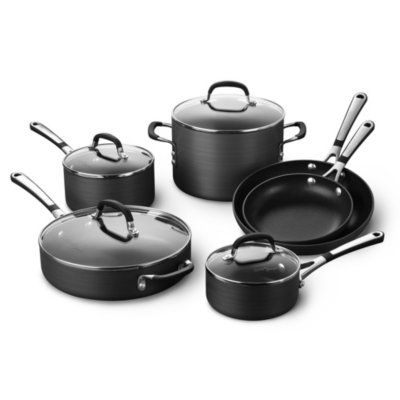 Simply Calphalon Hard-Anodized Nonstick 10-Piece Cookware Set
Simply Calphalon Hard-Anodized Nonstick 10-Piece Cookware Set
Login in or Register for 25% off sitewide
This item is currently not available.
The selected quantity is currently not available.
An ideal choice for cooking enthusiasts on a budget, Simply Calphalon Nonstick Cookware brings durability, performance, and value to your kitchen, with a simple elegance that captures the essence of Calphalon style. Its durable nonstick surface delivers consistent results and provides easy food release and effortless cleanup, while the hard-anodized aluminum construction provides fast and even heating. Silicone handles feel comfortable and stay cool on the stovetop. The Simply Calphalon Oven Safe Nonstick 10-Piece Cookware Set includes an 8" fry pan, 10" fry pan, 1-qt. sauce pan with cover, 2-qt. sauce pan with cover, 3-qt. sauté pan with cover, and 6-qt. stock pot with cover.