Our History
Our mission at Calphalon is to be the approachable culinary expert in kitchenware, enhancing the home chef's food experience during planning, prep, cooking and baking.
And here's how it all began...
1963 – Original Calphalon Company Founded: Commercial Aluminum Cookware Company
Ronald Kasperzak purchases Commercial Metal, a small metal spinning company in Perrysburg, Ohio. Renamed Commercial Aluminum Cookware Company, Ron's purpose is to expand and upgrade the limited line of aluminum cookware for the food service industry.
1968 – A Renaissance in Cookware
Commercial Aluminum Cookware is the first company to adapt and apply a new technology developed by the aerospace industry. Hard anodizing is an electrochemical process of treating raw aluminum to create a new professional line of cookware called Calphalon.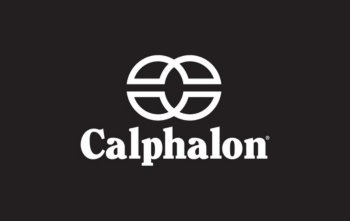 1976 – Calphalon Hard Anodized Goes Retail
Calphalon Professional Hard Anodized enters the retail market. For the first time, consumers experience the superior cooking performance and durability that previously only professional chefs enjoyed.
1992 – Calphalon Nonstick Line Premieres
Calphalon premiers a nonstick cookware line: Professional Nonstick from Calphalon. With the development of a new cooking surface, the "Calphalon" product name evolves into a brand name.
1994 – Utensils and Bakeware Launches
Calphalon expands its portfolio with the launch of its utensil and professional bakeware lines. A decade later, utensil designs were updated to better meet consumer needs.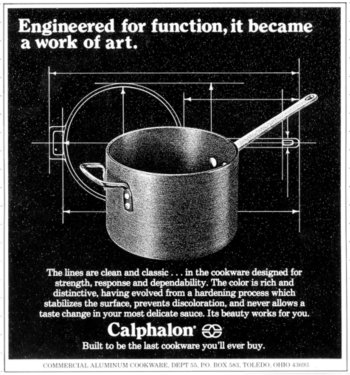 1997 – Announcing The Sunbeam Products, Inc. d/b/a Calphalon
Under its new name, The Sunbeam Products, Inc. d/b/a Calphalon reveals a new cookware line — Calphalon Commercial Nonstick — featuring Cool V handle technology.
1998 – Newell Purchases Calphalon
With the Newell purchase, The Sunbeam Products, Inc. d/b/a Calphalon joins a family of well-known brands, including Levolor, Sharpie and Goody. The following year, Newell purchases the Rubbermaid brand, changing its name to Newell Brands.
2001 – New Tri-Ply Stainless
Calphalon launches Tri-Ply Stainless Steel cookware, designed with three layers that deliver even, consistent heating, while matching the beauty of stainless steel with the cooking performance of aluminum.
2002 – Calphalon Extends Into Cutlery
The same high standards of performance, durability and design that made Calphalon cookware distinctive for more than 25 years now distinguish Calphalon Traditional Cutlery.
2003 – Contemporary Platform: A Design Masterpiece
This beautifully designed collection includes cookware and cutlery. Contemporary Nonstick cookware features multi-layer nonstick for ultra durability and lasting release. Contemporary Stainless Steel cookware combines professional performance with dishwasher safe convenience. And Contemporary Cutlery offers consumers a unique feature: the name of each knife etched into the end of its handle, so there is never a doubt which knife you are pulling out of the block.
2005 – Introducing Katana Series™ Cutlery
Crafted from ultra-hard Japanese VG-1 steel, our Katana cutlery features beautiful Damascus clad blades.
2007 – Introduction of Classic Nonstick Bakeware
Calphalon Kitchen Gadgets introduce soft touch control zone handles for comfort and better control. The collection includes a can opener, ice cream scoop, garlic press, 2-way grater and more.
2009 – Introducing Unison: Two Cooking Surfaces with Dishwasher Safe Nonstick
Calphalon Unison Nonstick cookware offers professional results with nonstick convenience. Two surfaces make the difference: the revolutionary, ultra-smooth Slide Nonstick surfaces releases foods effortlessly, and a specially textured Sear Nonstick surface seals in flavor. Each surface is designed to enhance the specific cooking purpose of the pan. The perfect pair — in one set. Calphalon Unison Nonstick is also dishwasher safe.
2011 – Commercial Hard-Anodized Returns
Calphalon re-launches Commercial Hard-Anodized cookware, exclusively for our gourmet retailers. Updated with glass lids and cast stay-cool stainless steel handles, our original hard-anodized cooking surface offers commercial performance and lifetime durability.
2011 – Calphalon Brings Color to the Kitchen
Calphalon introduces Contemporary Nonstick Bronze Anodized Edition Cookware. The elegant bronze color is created when heavy-gauge aluminum undergoes a unique hard-anodization process resulting in fully-infused color that lasts a lifetime.
2012 – New Nonstick Bakeware
Calphalon launches new Nonstick Bakeware. We've improved our bakeware by adding interlocking nonstick layers to deliver high performance release. In fact, it releases up to 2 times better than Calphalon Classic Bakeware.
2012 – Precision Cutlery Delivers Optimal Edge Retention
New Precision Cutlery stays sharp and delivers exceptional performance when chopping, slicing, mincing and more. The handle is designed with a unique, bar-shaped rivet.
2012 – AccuCore, Easy System™ and Enamel Cast Iron Cookware Launch
Calphalon launches AccuCore Stainless Steel cookware, featuring five layers with a copper core for controlled, even heating. Easy System Nonstick cookware is designed for easy, everyday cooking with helpful features such as etched fill lines, pour spouts and straining lids. And Enamel Cast Iron cookware is designed to maintain heat for flavorful results, and is available in richly colored red or blue enamel for a one-of-a-kind finish.
2013 – Contemporary Design. Ultra-Durable Nonstick. And Easier Cleanup Than Ever Before.
Calphalon Contemporary Nonstick cookware has been redesigned to be dishwasher safe, for professional performance and the convenience of easy clean up. Calphalon Contemporary Nonstick Dishwasher safe has a triple layer, PFOA-free nonstick coating for lasting release that is ultra-durable. The exterior is made of heavy gauge, hard anodized aluminum for even heating. The cool-touch stainless steel handles are oven safe up to 450°F. The stunning, contemporary design looks beautiful in any kitchen, so whether you're a kitchen newcomer or an accomplished gourmand, Calphalon Contemporary Nonstick Dishwasher Safe makes it easy and fun to experiment with a new recipe or technique.
2014 – Durable for Easy, Everyday Cooking
Calphalon Classic™ Stainless Steel cookware is designed for durability and easy, everyday cooking, with pour spouts, fill lines, and covers with integrated straining holes. Pans are made from brushed stainless steel with impact-bonded aluminum bases for fast, even heating, and are dishwasher safe for easy cleanup. Calphalon Classic™ Nonstick and Ceramic cookware lines will be available December 2015.
2015 – Knives Stay Sharp for a Lifetime
Calphalon SharpIN™ Cutlery withSelf-Sharpening Technology features ceramic sharpeners built into the block that automatically sharpen straight edge knives with every use. Contoured handles are comfortably balanced and labeled on the end so you can pull the correct knife out of the block every time. Sets include a well-chosen assortment of knives for all your food prep tasks, including dicing, chopping, slicing. SharpIN™ Technology is available in Classic, Contemporary, and Precision cutlery lines.