Stainless Steel Cookware
Filters
selection will refresh the page with new results
Collection
refinement Collection group
selection will refresh the page with new results
product-list-page-filter
Type
refinement Type group
selection will refresh the page with new results
product-list-page-filter
Product type
refinement Product type group
selection will refresh the page with new results
product-list-page-filter
Size/Capacity
refinement Size/Capacity group
selection will refresh the page with new results
product-list-page-filter
Handle Material
refinement Handle Material group
selection will refresh the page with new results
product-list-page-filter
Use & Care
refinement Use & Care group
selection will refresh the page with new results
product-list-page-filter
Price
selection will refresh the page with new results
product-list-page-filter
Product Results
Showing 1 of 1 results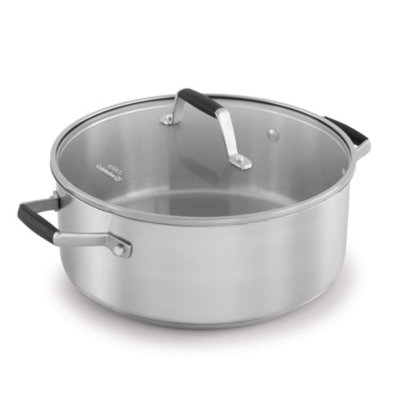 Select by Calphalon™ Stainless Steel 5-Quart Dutch Oven with Cover
Select by Calphalon™ Stainless Steel 5-Quart Dutch Oven with Cover
This item is currently not available.
The selected quantity is currently not available.
Whether you're looking to upgrade your stainless-steel cookware set or in search of individual pots and pans, Calphalon stainless steel cookware is exactly what you're looking for to make your next meal memorable. Calphalon stainless-steel pots and pans are meticulously crafted with a polished, stainless steel exterior and a satin finished interior for reliable performance and an aesthetic that looks great in your kitchen. Stainless steel pans are the ideal cooking surface for browning, searing, and sautéing foods. Popular individual stainless-steel frying pans, stock & soup pans, sauce pans, or Dutch ovens are designed to save you time in the kitchen and deliver cooking versatility.