From rice to chicken stock, having the ingredients you need in your pantry gives you the flexibility to cook an easy, homemade meal at any time – no last-minute grocery run needed! Look inside your cabinets and take stock of what you have, and then make a list of what you need to pick up at the grocery store. We've categorized some must-haves to get you started.
Oils & Vinegars
A good selection of high-quality oils and vinegars are must-haves for your pantry. Stock up on extra-virgin olive oil for cooking and salad dressings, plus canola or vegetable oil too. Sesame oil is great for Asian recipes. And balsamic, apple cider, red wine, sherry and rice vinegars give you plenty of flavors to choose from for salad dressings, marinades and more.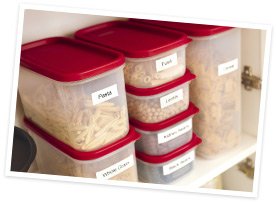 Bottled & Canned Goods
Easily stored in the pantry until needed, these ingredients form the basis of many different recipes. It's always good to have canned stock (chicken, beef and vegetable), canned tomatoes (crushed, diced and whole), beans (black, kidney and garbanzo), tomato paste, olives, capers and green chilies on hand. Basic condiments such as ketchup, Dijon mustard, Worcestershire sauce, soy sauce, mayonnaise, jams, jellies, maple syrup, honey and peanut butter are also essential.
Rice, Pasta & Grains
Rice is a staple that can be purchased in bulk, and many cooks keep several varieties on hand including white, brown, wild and long-grain rice such as jasmine. You'll also want to stock up on assorted pastas (spaghetti, linguine, fettuccine, and short varieties such as orzo or macaroni), plus rolled oats, quinoa, couscous and lentils.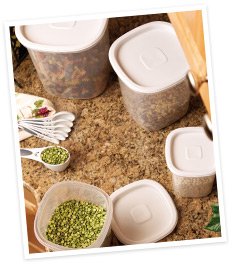 Baking Needs

Flour (all-purpose and whole-wheat) and sugar (granulated, brown and confectioners) are necessary for nearly every baking task, plus you'll want to have baking soda, baking powder, cocoa powder, corn starch and cream of tartar available as well. And don't forget the chocolate: a bag of chocolate chips and a box of semi-sweet baking chocolate will keep you from having a dessert emergency.

Dry Ingredients

Dried breadcrumbs and stuffing are easy to store, and you'll save time using premade instead of making your own. In addition, keep some cornmeal, dried fruits (raisins, cranberries, apricots, prunes) and nuts on hand. Walnuts, pecans and almonds – whole or in pieces – will give you lots of options for desserts, salads and snacks.

Storage

Help keep bulk items fresh (and your pantry neater) by storing in reusable food containers. Keep flour, rice or pasta in canisters to maximize shelf space, and put smaller food items in stackable, modular containers. Clear designs help you quickly identify contents, and let you know at a glance when it's time to replenish.

​​​​