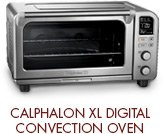 With its extra-large capacity, and bake, convection bake, broil and toast settings, the Calphalon XL Digital Convection Oven can do it all – and won't heat up your kitchen in the process. Read below as Phil, senior manager in Calphalon's digital marketing department, shares a few of his favorite things about this amazingly versatile countertop oven.

"In prehistoric days, our Paleolithic ancestors huddled around an open fire not just to cook, but also for warmth and protection from the unknown creatures circling in the dark. And thus, the concept of the fire, and its subsequent iterations - the hearth and the oven – as the center of the home was born.

But man, does it get hot. Baking and braising, casseroles or cookies. Whatever you're doing, you're heating up the kitchen the second you turn on that oven. And these days, we don't have a saber-toothed tiger stalking our backyard waiting for the oven to shut off.

So what's a family to do, especially in the heat of the summer? Baking, cooking, roasting, and broiling doesn't take a vacation. The kids must eat! The brownies for the fundraiser have to bake!

I've owned a few toaster ovens over the years – key word, "toaster." They were essentially bread browners that happened to heat to 350 for basic baking. But they were small, inefficient, and tended to heat and toast unevenly.

Enter the countertop oven. It's truly one of the most versatile pieces you'll have on your counter. These days, countertop ovens are feature-rich, space-saving, efficient small appliances that are truly multi-functional. And the Calphalon XL Digital Convection Oven is one of the best ones on the market – and I'm not just saying that because I work here.

My family uses the XL Digital Convection Oven 6 days a week, whether it's toasting bagels for breakfast or baking my pre-schooler's chicken nuggets. It's loaded with practical functionality – you can set to bake, broil, or toast with the push of a button, and there are pre-set functions for bagel, pizza and cookies that leverage the technology in the oven to regulate heat for optimal, consistent results. Temperature and browning are controlled with easy to use, tactilely pleasing knobs.

The convection function is amazing – it's the quietest convection oven I've ever encountered, and it makes baking French fries and fish sticks quick and easy. We even roasted a sweet potato the other night – just cut into small cubes, toss with olive oil, salt, pepper and fresh nutmeg, spread on the included nonstick baking sheet, and bake at 425 for 20 minutes.

Plus, the XL Digital Convection Oven has a small footprint that takes up minimal space on the counter, but it's large enough to hold a 9x13 pan – perfect for cookie sheets and casseroles – or a 12" pizza.

And it's beautiful – the professional look, classic design, stainless steel materials, and glowing Calphalon logo make for a classic presentation that you're proud to display.

And best of all, when the heat is on outside, you're cool and comfortable in your kitchen, with the oven safely turned off."

​​