Most home cooks start out with the essentials – a chef's knife, a paring knife, maybe even a bread knife. These knives are great for basic cuts such as chopping, peeling and slicing. But when you're ready to expand your collection, how do you know what kind of knives you'll need, or even what you really use? We have some great suggestions that go beyond the cutlery basics, straight from the Calphalon kitchen.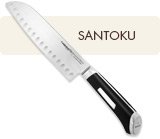 Santoku
This Japanese-style knife combines the features of a chef's knife and a cleaver for effective chopping, dicing and mincing. It has a relatively straight cutting edge, with a slightly rounded tip for scoring foods. It also features kullens, which are indentations along the surface of the blade that can help keep food from sticking to the knife.
SHOP ALL CALPHALON SANTOKU KNIVES »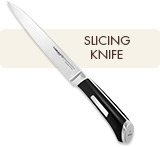 Slicing Knife
Designed with a long and slender blade, this knife has a curved cutting edge to help you take beautifully even slices from roast meats or poultry. It also has a pointed tip to make it easier to cut around bones or joints when carving a roasted chicken.
SHOP CALPHALON PRECISION SERIES SLICER »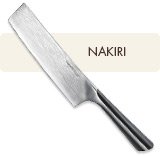 Nakiri
A smaller version of the classic meat cleaver, this traditional Japanese knife makes quick work of chopping vegetables. The large, broad blade and straight cutting edge are designed for optimal efficiency when cutting straight down or making forward slicing motions.
SHOP CALPHALON KATANA SERIES NAKIRI »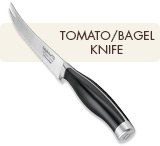 Tomato/Bagel Knife
The long, thin serrated blade easily pierces tomato skin, allowing you to make even thin slices without squishing, while the pronged tip lets you pick up slices to place on a sandwich or plate. The serrated blade also works well with bagels, cutting through the exterior without ripping or compressing the soft interior.
SHOP CALPHALON CONTEMPORARY 2-PC. BREAD SET »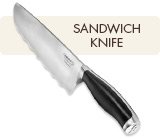 Sandwich Knife

Thicker than a traditional bread knife, the sandwich knife has a wide blade with a serrated edge to slice through thick sandwiches, even on crusty artisans bread. In addition, you can easily spread mayonnaise, mustard or other condiments with the rounded knife tip.

​​