Sunshine, longer days, blooming flowers and the appearance of fresh fruits and vegetables at local farmer's markets signal that Spring is finally here. In fact, this might be one of our favorite times of the year. To kick off the season, we asked Calphalon employees to share their favorite springtime traditions, holiday celebrations, and – of course – meals!
Springtime just puts me in a happier mood! After being trapped indoors all winter, I finally have the chance to get outside and enjoy the weather. I find myself going on more hikes, enjoying the fresh air, and eating healthier food. I love making beet and goat cheese salads, grilling artichokes, and snacking on Rainier cherries.
- Carly C., Associate Manager, Brand Marketing
My husband's grandmother was Polish and she married into an Italian family. She combined both heritages to make a wonderful dish she called Easter Pizza. What made it extra special was the symbolism behind every ingredient and how it tied into the Easter story from church. As a family, we have continued this tradition by having our children help participate in the making of the Easter Pizza. When they were little, they would help roll out the dough. As they grew up, they would help with chopping the meats, eggs, and cheese, and combining the layers. We've been blessed to be able to share this tradition with our extended family and friends, as well. As they say in Polish, "Radosnych Swiat w Zmartwychwstaniu Chrystusa Pana" which means, "May you have a blessed and happy Easter!"
- Kim T., Associate, Calphalon Kitchen Outlet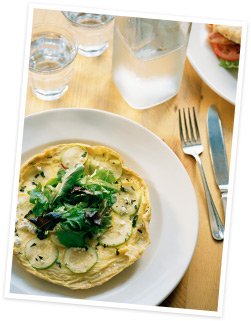 I love the smell of spring, particularly after it rains, and the gradual transition from red wines of winter to the white wines of summer. Spring makes me think of Easter brunch with great frittatas and quiches.
- Anna W., Vice President, Marketing
Ahh, spring! I get spring fever with the first beautiful day after a long winter. I immediately look forward to a nice evening, pouring myself a glass of crisp white wine and enjoying a meal outside with friends and family. The setting I have in mind consists of a table outside with dogs and kids running around and dinner consisting of gourmet cheeseburgers on the grill, sautéed veggies, wild rice and watermelon, basil, and feta cheese salad. Amazing!
- Morgan A., Manager, Brand Activation
I remember the Spring when my mom taught me to cook, when I was seven years old. I wanted to learn to cook Parmesan Chicken for the entire family. When she told me to wash the chicken, I did exactly that – took it to the sink and poured dishwashing detergent on it. Yes, I washed it with soap. Needless to say, we did not have Parmesan Chicken that night. Instead, we had my favorite dish from my Mamma, her famous Mostaccioli. Now, every time I cook Mamma's Mostaccioli, I smile and remember the good times we had. I also remember the chicken I wasted!
- Michael N., Store Manager, Calphalon Kitchen Outlet
Spring is all about staying up later and spending the weekend by the pool working on my tan! Running at the crack of dawn in shorts and a tank top is THE best time of the year. I love eating anything on the barbeque (chicken, beef, veggies, corn, hot dogs, you name it) to fresh tabbouleh or couscous, and steamed greens.
- Christelle S., Manager, Brand Marketing
During springtime, I love working out outside, warmer temperatures (not having to wear a coat!), longer days, and flowers blooming. My favorite spring recipe is seared scallops with bacon, spinach, and stir fry sauce.
- Stacie R., Executive Assistant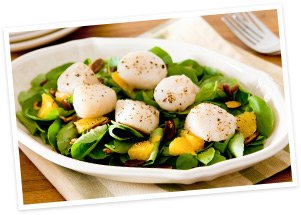 Spring makes me want to eat lighter and use more fresh ingredients. I love sitting outside on a beautiful spring day eating brunch with friends. My favorite brunch meal to cook is a veggie omelet with fresh diced tomatoes, spinach, mushrooms, and cheddar cheese. Top that off with fresh lemonade or a mimosa and I'm in my own spring paradise!
- Amanda H., Manager, Brand Marketing

Iranian New Year, or "Nowruz," marks the first day of spring for my family and me. The literal definition of "Nowruz" means "new day," which brings thoughts of bright sunshine and new beginnings. On this day, the table is set up with multiple items that represent springtime, including rebirth, love, health, and sunrise. Other rituals associated with Nowruz include jumping over small bonfires to symbolize good triumphing over evil, as well as a giant outdoor picnic that consists of good food, good music, and good company. After so much celebrating, I feel rejuvenated and refreshed, ready to start wearing brighter colors, running outside more, and eating healthier!
- Atoosa A., Associate Manager, PR and Consumer Engagement

Baseball, beers and burgers with my family and friends! Little league or major league, it's all about time at the ballpark before the heat of summer hits.
- Phil K., Senior Manager, Brand Activation

Tell us what you love about Spring! Share your favorite meals, traditions or moments with us on Facebook.

​​​