Sometimes, you just need to turn up the heat to get the results that you want. Sautéing and stir-frying are two cooking techniques that use medium-high to high heat to get their signature results. Cooking foods at this temperature quickly evaporates moisture, allowing the food's natural proteins and sugars to caramelize into a brown, savory crust. This browning adds concentrated flavor to your favorite foods.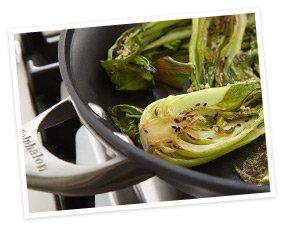 What is sautéing?
Sautéing is a dry-heat, stovetop cooking method that involves cooking food over moderately high heat in a small amount of oil. The word "sauté" derives from the French verb "sauter," which means to leap. Sautéed foods are often kept in motion by the cook, whether by frequent turning with a spoon or spatula, or by the classic toss-and-roll technique. Sautéing works best in a wide, flat-bottom pan with low sides to encourage evaporation.
RECIPE: SAUTEED HALIBUT WITH EXOTIC MUSHROOMS, BRUSSELS SPROUT PETALS & BACON
What is stir-frying?
A dry-heat cooking method, stir-frying includes relatively small, evenly-sized pieces of food which are cooked quickly in a wok or stir-fry pan over high heat. Usually a moderate amount of oil is used. As its name suggests, constant stirring or movement is required for best results. The goal is to expose all of the ingredients' surfaces to the heated pan, resulting in quick and thorough cooking. Stir-frying works best in a wok, with high sides to allow the cook to move food freely around the pan.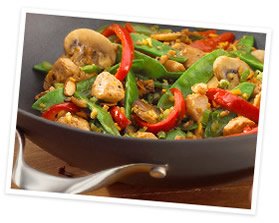 RECIPE: SPICY PORK STIR-FRY IN LETTUCE CUPS

What type of pans should I use?

Premium cookware designed to quickly and evenly conduct heat is ideal for sautéing and stir-frying. Calphalon hard-anodized aluminum and stainless steel cookware with an aluminum or copper core is designed to provide consistent heating and precise control for perfect searing, browning and deglazing. Here are some top picks from the Calphalon experts:

​​​​