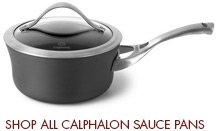 From rich caramel sauces to flavorful berry reductions, dessert sauces add flavor, moisture and eye appeal to many sweet preparations. They're an ideal finishing touch for cakes, tarts, fruits and ice cream. Sauces are easily prepared on the stovetop, oftentimes using only a few ingredients, and can be customized to complement many recipes. A simple créme anglaise sauce can be flavored with anything from peppermint to maple syrup, while a rich vanilla sauce can be flavored with brandy or liqueurs such as créme de cassis. Match the right sauce with your dessert, and your results will be spectacular.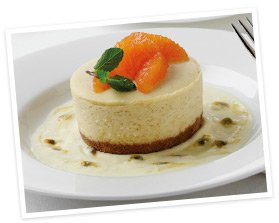 RECIPE: WHISKEY CARAMEL SAUCE
RECIPE: INFUSED CRÈME ANGLAISE
Using a Double Boiler
Many dessert sauce recipes call for a double boiler. Ideal for preparing delicate sauces that can seize up or separate over direct heat, the double boiler uses a simple two-pan design to gently heat with steam. To use a double boiler, fill the bottom pan with an inch or two of water, put the top pan in place (it shouldn't touch the water in the bottom pan), then bring the water to a simmer. The steam generated will gently warm the contents of the top pan. For prolonged cooking, be sure to periodically check the bottom pan to make sure all the water hasn't boiled off.
Tips for Successful Sauces
• To prevent skin from forming on a sauce, transfer the prepared sauce to a bowl or container to cool, and cover the surface of the sauce with plastic wrap.
• Serve dessert sauces warm or cool depending on the recipe and the application.
•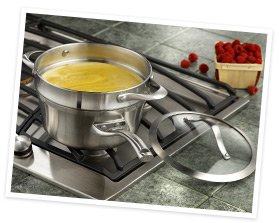 Consider special applicators, such as a small squeeze bottle, for artistic plate presentations.

• Before serving a fruit sauce, be sure to strain out seeds using a fine mesh strainer to ensure a smooth, even consistency.

• Leftover caramel and ganache sauces can be refrigerated in a tightly-sealed container for 1-2 weeks.

​​