Smooth and creamy, or hearty and thick, there's one thing that summertime soups have in common: they are best served chilled. Whether you've spent the day lounging by the pool or bustling around the office, chilled soups are a perfect way to end a hot and busy day. Plus, soups are easy to prepare in advance – just refrigerate or even freeze them and you'll be ready for your next family dinner or weekend gathering. Here are a few of our favorites:
Gazpacho
The taste of vine-ripe tomatoes turns this traditional soup into something truly spectacular. Featuring a host of other vegetable garden favorites – including cucumbers, bell peppers, onions and carrots – this soup can be made in a blender and is a hearty and satisfying meal in itself. Serve with fresh, crusty bread on the side – it's the best way to get every drop.
Vichyssoise
A classic recipe featuring pureed potatoes and leeks, this soup is best served chilled. An immersion blender can help you achieve the rich, creamy consistency that this soup is famous for. Some cooks add additional vegetables, such as asparagus or carrots, for even more fresh seasonal flavor. Prepare a day in advance to allow flavors to blend, and then top with chopped chives before serving.
Chilled garden vegetable
You can take almost any summer vegetable and make a simple and delicious chilled soup. First, see what looks good in the garden: cucumbers, carrots or zucchinis make wonderful soup bases. Simply cook and puree your vegetables in a pot, and then add some stock and complementary herbs or seasoning. Cook until flavors have blended, then chill before serving.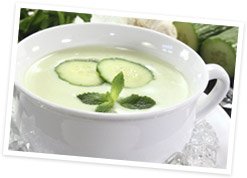 For recipes and even more inspiration, check out the following link:

​​